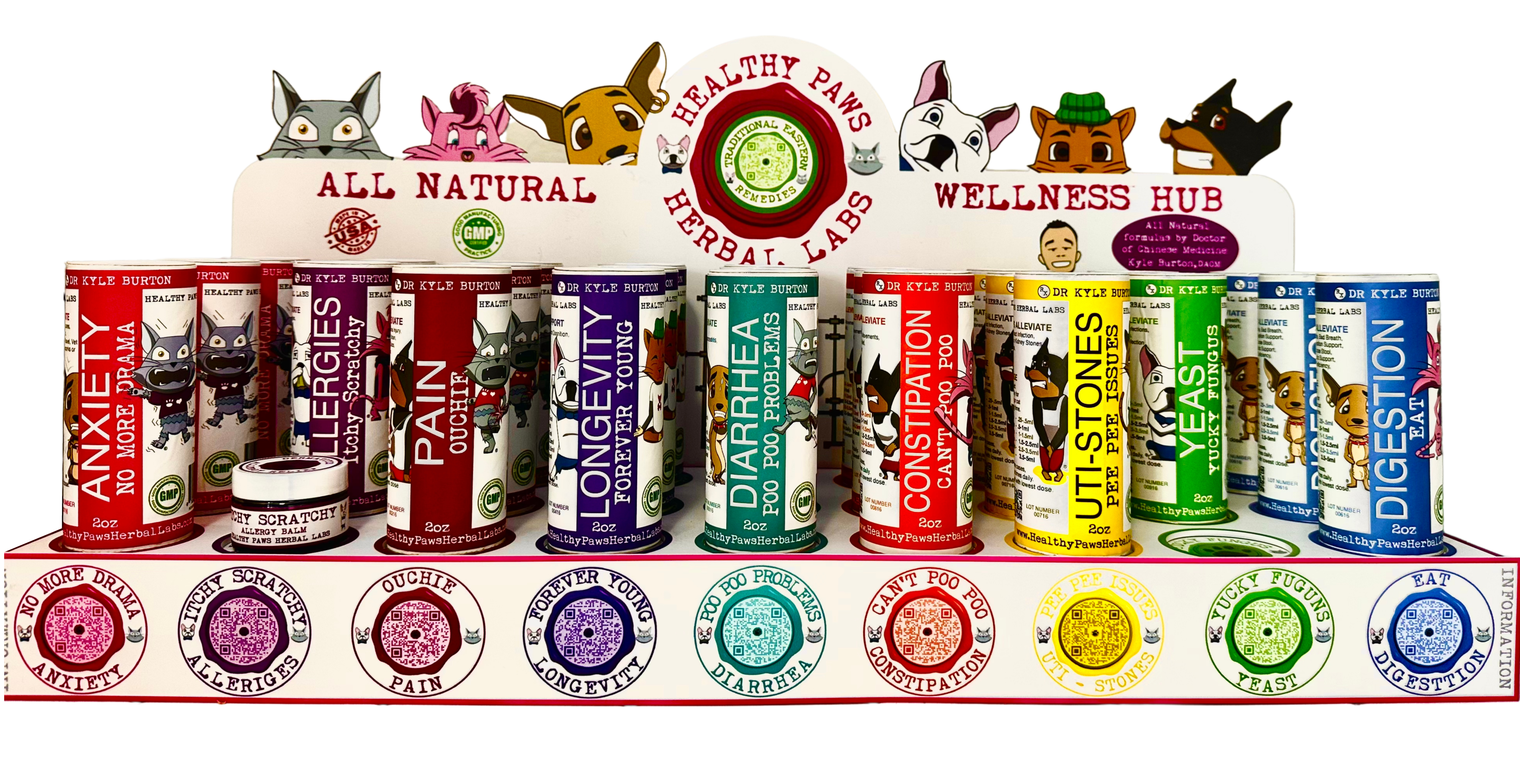 Z- Healthy Paws Herbal Lab store display with back
Bottom: 27"w x 8.5"d x 2.5"h
Back: 27"w x 13.5"h x .25" d
Overall: 27"w x 8.5"d x 13.5"h 
Holds 3 of each formula: Holds a total of 27 formulas

Note: product sold separately 
Information QR codes on the front of the display that links the pet parent to the product information sheet.
Increase your Healthy Paws Herbal Labs awareness by ordering one for your store today.
Symptom relief is usually within 25-45 minutes producing effects that last 4-6 hours. For Seizures, it is recommended to give 2-3 doses per day. You may also need to increase dosage at times of higher stress.
This formula contains calcium-rich herbs that calm an overexcited nervous system, promote relaxation, decrease seizures, and treat hypertension. It contains Suan Zao Ren and Xie Cao which help decrease anxiety and obsessive-compulsive behavior.
Ren Shen is one of the strongest natural steroidal type anti-inflammatories available and it is effective in producing a sense of calmness and relaxation.
 3rd Party tested for purity and potency. Laboratory tested.
Twice daily for your cat or dog. For severe cases use three times a day. Dosage is dependent on the weight of your pet. For cats, start with the lowest dose.
 < 10lbs.25-.5ml10-25lbs.5-1ml25-50lbs1-1.5ml50-75lbs1.5-2.5ml75-100lbs2.5-3.5ml>100lbs3.5-5ml